In April '98 I had the good fortune of seeing Elliott Smith live at the Vooruit in Ghent. I remember him coming on stage: incredibly shy and unassuming, apparently totally unaware of the fact that the place was sold out to a bunch of people who had adored "Roman Candle", "Either/Or" and "XO", and were delighted to hear him play live. The concert turned out to be mesmerizing. I don't usually keep ticket stubs, but here's my exception to the rule: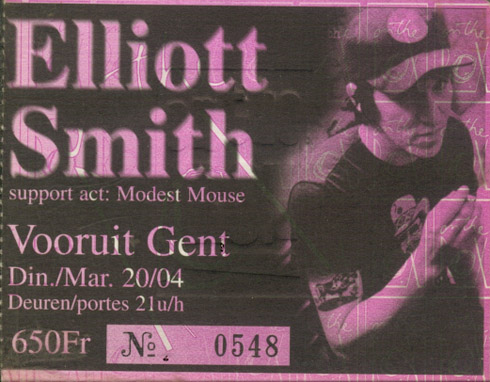 Later that year, Elliott was scheduled to appear on a Dutch TV-show called "Two Meter Sessions". I was away from home spending my time in Ghent at the time but managed to catch this appearance on video through the wonders of vcr programming. And now, thanks to a recently purchased vhs-to-dvd recorder, so can you.
I had a bit of trouble splitting the footage in two so as to oblige YouTube — hope you enjoy it anyway:
Part One:

(YouTube link)
Part Two:

(YouTube link)
You're dearly missed, Elliott.